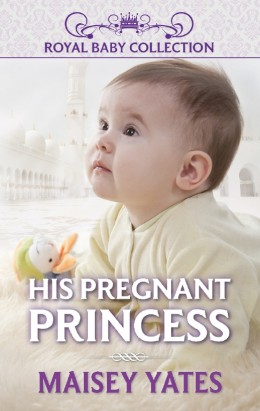 Harlequin
June 1, 2013
ISBN 9781459252158


His Pregnant Princess
USA Today bestselling author Maisey Yates brings you a sensation scandal behind the palace doors in this unforgettable, digital novella, showing just how much trouble Royal Babies can be!
Princess Alys Bowen has always known she was destined to marry for duty, love was not an option. But with the announcement of her perfectly arranged engagement looming, for just one night she will take matters into her own hands!
Her brooding bodyguard, Liam Ryder, has always been there for her—literally putting his life—and body—on the line. And in his eyes, Alys can see that he's resisting temptation just as much as she is.
But now Alys and Liam have nine months before facing the consequences of their delicious and forbidden desires…
(This is a short read! About 10K words.)
Excerpt
Chapter One
"Normally I have a lot more paparazzi to wrangle," Liam Ryder leaned back against the wall, the motion seemingly casual. But if Alys knew one thing about Liam, it was that nothing he did or said was casual. Even his appearance was too afraid to do anything unexpected in his presence. His dark suit perfectly pressed, not one gleaming black hair out of place.
Alys studied him, her bodyguard, confidant, best friend, and, for all intents and purposes, her date to this extremely lavish wedding. She caught herself studying him far too often, in truth. The sharp angles of his face, the hard lines of his body. And she found herself, lately, keeping track of how many smiles she was able to coax from that serious mouth of his. "True, but then, normally, I'm not overshadowed by tech royalty. Or more specifically, technology's biggest rivals turned lovers. Julia Anderson and Ferro Calvaresi are the story of the moment, and for once, I am not. Not even the newly married couple can rival them for newsworthiness."
"Disappointed?" he asked, a small smile curving his lips, his pale blue eyes glittering with humor. A point for her Liam Smile Book.
"Not in the least. Perhaps I can eat without fear of being caught in an awkward chewing photograph. 'Princess Alys gnaws on shrimp cocktail'. Such a memorable caption. Newsworthy. Whatever else would they write about if I didn't chew indelicately."
Nothing half so newsworthy as the announcement of her engagement to a man she barely knew, which was coming soon. Much sooner than she would like. All things considered, she would rather see the shrimp headline.
"The public love things like that. They like to know you eat shellfish, just like they do."
"The people's princess, lover of common foods," she said dryly.
"Quick, eat before the media's new fascination break up," he said.
"Are you kidding? If they decide to break up cameras will most definitely be on them. The fireworks will be unbelievable. Me chewing on shrimp will have nothing on the spectacle they'll make."
"A reprieve then."
"Indeed." And it almost made her want to ask him to dance. But she couldn't. They both knew that. It was one thing for him to go with her to events like this. He appeared as a date, dressed for the occasion, but he was essentially a shadow. Never stepping into the spotlight, never calling attention to himself.
At well over six feet tall with arresting good looks, it was a skill she marveled at. And yet he did it with ease. He'd been her bodyguard for seven years, and she'd never been able to understand how he managed it.
Considering that, he probably wouldn't appreciate her dragging him onto the dance floor. And she imagined her father wouldn't appreciate it either. A man like Liam was wholly unsuitable to make personal contact with her royal personage, at least in her father's estimation.
Unless, of course, he was moving her out of the way and jumping in front of a bullet for her, no one seemed to have a problem with that. Seemed hypocritical to her, but she didn't make the rules.
And then there was the small matter of Damien. The man to whom she would someday be engaged and eventually married to. The understanding had been in place for years, the kind of understanding that had to be preserved which, seemed to mean she wasn't allowed to touch men of any sort. Not while the understanding was still being…more clearly understood. And certainly not now that the time was ticking on it all becoming more official.
It's time, Alys. Damien is ready to put things in motion for marriage. Your public relationship will start soon, followed by a more official announcement. Then the wedding.
Alys closed off the memory of her father's voice, of the conversation they'd had just before she'd left for this wedding.
The clock was ticking on her freedom, louder now than ever.
She looked at Liam again and her heart jolted a little. It did that sometimes when she saw him. Inconvenient since he was always around.
How she wished she could put marriage off. At least marriage to Damien. It was difficult to feel any excitement or even openness to that relationship. She couldn't even imagined wanting him. Not when only one man had held the starring role in her fantasies. The man she wasn't ever allowed to make a move on. The man she could never ask to dance.
Oh, Liam Ryder was far too many things. Bodyguard, confidant, best friend, and the man she wanted desperately as her lover.
The bride and groom made their way out to the dance floor and Alys's heart tightened. That was what she wanted. She wanted love. The kind that made vowing to give your entire life to someone seem like a joy rather than a terrifying chore.
She ignored the ache in her heart that said she already had that. It didn't count if the man you felt it for didn't feel it back.
And it especially didn't count if was a man you would be absolutely forbidden from making vows to, even if the love was mutual.
"The shrimp isn't all that good, Liam. I'm ready to go back to the room."
And because she was the princess, what she wanted was all that mattered. At least in this case. She looked at Liam and her heart sped up. Yes, at least in this case.
The sad fact was, when it came to other things, the most important things, what she wanted would always be out of reach.