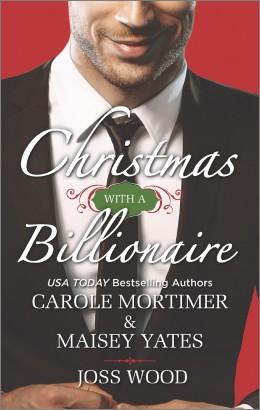 Halrequin
October 7, 2014



Christmas with a Billionaire – Snowed in with Her Boss
An embarrassment of riches: three sweet and sexy tales of holiday romance!
Billionaire under the Mistletoe by Carole Mortimer
When softhearted Sophie pulls off a last-minute Christmas miracle for a family in crisis, she wins the gratitude—and heart—of wealthy Max Hamilton. But at what cost?
Snowed in with Her Boss by Maisey Yates
Dutiful Amelia is stranded on Christmas Eve. (Bad.) She's at a five-star Aspen resort. (Good!) She's posing as her handsome boss's girlfriend. (So bad it's good!) But is she pretending…or practicing with Luc Chevalier?
A Diamond for Christmas by Joss Wood
Headstrong Riley's holiday run-in with hot gemstone tycoon James Moreau is unsettling to say the least. But she soon discovers that the only thing better than resisting temptation is finally giving in!
Excerpt
"Please, sir. We need just one more shovelful of coal for the fire. Only, the bookkeepers are freezing, even with their fingerless gloves and stocking caps."
"What the hell are you talking about Amelia?" Luc Chevalier looked up from his desk at his assistant, who was looking, if possible, more doe-eyed, her dark brows crinkling in the middle, her hands clasped in front of her chest.
"Embellishing my request for time off."
"It is not cold in this office. Neither do I have a…fireplace in here, and if I did, I wouldn't burn coal. I would burn wood."
"Christmas Carol," she said, blinking her owlish blue eyes. "I feel like a Dickensian street urchin." She sighed, brushing her bangs out of her eyes.
"I cannot give you time off."
"Think of Tiny Tim."
"I sincerely doubt anyone called Tiny Tim is depending on your presence around the holidays."
"You don't know that," she said.
He cleared his throat and shuffled the papers on his desk. "I do, actually. You have two sisters. You have no brothers. Your father's name is Michael. And unless you have a new nephew named Tim, there is no Tim."
"How do you remember all that? It makes it seem like you care."
"Not especially," he said, "it's just that I don't forget."
"Charming. Luc, it's Christmas. I need some extra time off."
"What is the date today, Amelia?"
"It's December 21st."
"Then it is not Christmas. Christmas is one day, Amelia. Not a week. Not four months as store displays might have you believe. One day. You will be off work in time on Christmas Eve to enjoy any religious services you may need to attend, and you will be off on the day of the holiday itself. But not the entire week before."
"Don't you have some sort of feast to get to? Family gathering?"
"You're well-aware that I do not have a good relationship with anyone in my family, as my father is a terrible human being and my brother is barely a notch above him. I do not take holidays with them. I do not take holidays at all."
"Bah. Humbug," she said.
"In continuation of your Christmas Carol theme. Very clever."
"Though, I feel, underappreciated in this setting."
"Which setting?"
"Your office. With a man who hates Christmas, the sound of children's laughter and classic literature."
"That's ridiculous," he said. "I'm quite fond of classic literature."
"Har. Har. Please, Luc."
He cleared his throat and stood up, watching Amelia's blue eyes widen slightly as he did. "I'm sorry, but I found out only an hour ago that I need to go to Aspen to speak to Don Fleischer about the acquisition of the resort. I can't afford to sit it out and wait until after Christmas."
Luc was relatively new to real estate. He was coming off of being the CEO of one of Europe's largest investment firms. But after finding out his father was stealing from clients, he'd walked, after burning the generations old institution to the ground.
His father had caused him enough pain over the course of his life, and yet he'd continued to work for the old man, and he had no idea why.
But he was done with that. He'd taken the money he'd earned off of investments and started new, away from Chevalier Financial.
And that meant he couldn't let things simply sit just because some people felt the need to inject their life with frivolity and trees inside their living rooms. He didn't get it, particularly, but then, the only function Christmas had ever served in his life was that it got his father out of the house nearly every night for the month of December for social engagements.
He'd always appreciated that about the holidays, anyway.
"Wait…what? We're going to Colorado?"
"Yes. You'll be compensated for travel, as always, and I will have you back in time for Christmas. Actual Christmas, and not these vague days leading up to it that everyone seems to want to spend in a red and green haze."
"Luc…my family is…"
"You can bring them back key chains. And a mug. I will give you spending money for cheesy, location based souvenirs."
"Luc, I don't…."
"It is not a request, Amelia, it's part of your job."
She balled her hands into fists and raised them up, shaking them, the ring on her left hand glittering in the light. "Blast you, Luc Chevalier."
"Every year, Amelia. For the past three years. And you still act surprised?"
"You don't make me go on a last minute business trip every year."
"No, but we have this discussion about Christmas every year. Though, this is the first year you've borrowed from a Christmas Carol. The year you stole from scripture to try and convince me was a particular low."
"On Earth, peace and time off among men."
"We leave early tomorrow. We're taking the private plane, and I will have those candy cane lattes you like."
"And the candy stir sticks?" she asked.
"Yes, the candy stir sticks."
She sucked her lush bottom lip between her teeth and chewed on it for a moment, and he allowed himself some time to enjoy the sight.
He hadn't enjoyed a woman in…far too long. Starting up a new company meant there was no time for sex. Though, sex and his assistant should never be a part of the same train of thought. No matter how long it had been.
A good assistant was a lot harder to find than a good time in bed. And his very engaged assistant was off limits for even more reasons than just employment.
"And scones?"
"In several flavors, though I believe cranberry is your seasonal preference."
A smile made the corners of her lips turn upward. "Aw, you remembered."
"Again, because I don't forget. Don't be flattered by it."
"I've known you for nearly four years and you've never once flattered me on purpose, Luc."
"But what does it really matter since you still end up getting the coffee you like?"
She lifted a shoulder. "I guess it doesn't. Though, don't think it atones for the fact that you're making me fly more than halfway across the country when I have Christmas shopping to do."
"You can shop online. During business hours. You do it anyway."
Her eyes widened, her mouth dropping open in a perfect rendition of shock. "I do not."
"You do. On your phone. I've seen you do it."
"Vintage fashion goes fast I have to be able to buy it when it comes up."
"And you have to be able to…I don't know, personally assist me when I need it."
She rolled her eyes. "When do I not, Luc?"
"You always do, which is why you still work for me. And speaking of the fact that you still work for me, perhaps it's time you went and did a little of that."
"Oh, Luc, Santa is going to bring you so many presents."