August 20, 2015
Copper Ridge Series News!
First of all, I owe you all a huge thanks for the support you've given this series. The fact that you've bought, read and enjoyed the books means a lot to me.
Which brings me to some news about the series. I've announced all of this in bits and pieces but I'm going to try and distill it here for clarity. (clarity isn't always my strong suit when I'm exciting and bouncing all over the place like a ferret on Pixie Stix, but I digress)
I have a lot coming up in this series over the next year. All of these books are set in the town of Copper Ridge, but each book is a complete romance. Some connect more closely with each other, like the trilogy with the Garrett family, and some have a looser connection, like the novella, Shoulda Been a Cowboy.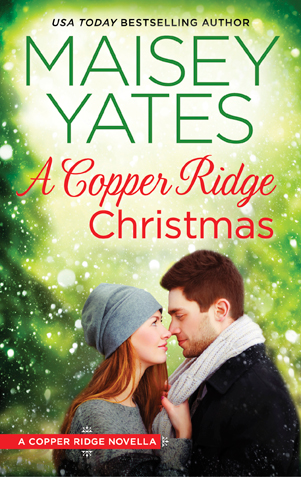 November 1st A Copper Ridge Christmas comes out, this is a digital novella that will be available at e-tailers everywhere.
In April 2016 Take Me, Cowboy will be out in Harlequin's Blaze series. I'm doing two books for Blaze, featuring the McCormack brothers.
So, what's the deal with these Copper Ridge Blaze books? Blaze is one of Harlequin's series romance lines. Here's the description of the series on Harlequin's website: Harlequin Blaze stories sizzle with strong heroines and irresistible heroes playing the game of modern love and lust. They're fun, sexy and always steamy.
These books will be set in Copper Ridge, but will be just over 200 pages. A little more than a novella, a bit shorter than the HQN books. Copper Ridge is already a pretty sexy series, so the heat level will be about the same as what you've already read. I liked the idea of doing some books for Blaze, first off because I really, really love the line as a reader. Second of all, I liked the idea of doing Blazes for 2016 instead of novellas, because it would give readers a chance to buy the books in print as well as in digital formats. And allows me to hopefully have some shirtless cowboys on my cover. I'm a simple creature with simple needs.
So that's Copper Ridge Blaze a nutshell!
In May 2016 the first book in the next HQN trilogy, One Night Charmer, releases. This trilogy will focus on the West family and will be connected much the same way the trilogy with the Garretts was this year. What's the difference between HQN and Blaze?
HQN is Harlequin's single title romance imprint. These books are almost twice as long as a Blaze and are on shelves longer, and also not shelved with Harlequin's series romance books.
So here's the abbreviated version:
You don't have to read all the books in order!
There are more Copper Ridge books coming!
This is just the Copper Ridge schedule, I am still writing Harlequin Presents.
And here's the schedule:
A Copper Ridge Christmas – Nov 1st, 2015
Take Me, Cowboy – Harlequin Blaze, April 2016
One Night Charmer – HQN, May 2016
Tough Luck Hero – HQN, July 2016
Last Chance Rebel – HQN,  September 2016
Hold Me, Cowboy – Harlequin Blaze, November 2016
If you have questions, feel free to pop them into the comments, and I'll be happy to do my best to answer them!
Also, if you want to keep up to date on what's happening with my books, feel free to sign up for my newsletter!