January 25, 2012
Happy Australia Day!
It so happens that today I got author copies of GIRL ON A DIAMOND PEDESTAL, which features my very first Aussie hero, Ethan Grey.
And in honor of Australia Day…I'd like to give at least one copy away!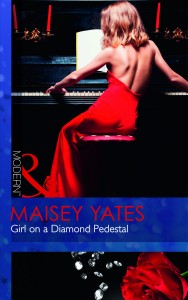 Never been kissed.
Noelle was once the girl who had everything. Until the piano prodigy fell from grace. Destitute and desperate, she's forced to accept billionaire Ethan Grey's convenient proposal.
Ethan wants revenge – all he needs is Noelle's signature on the marriage certificate. Yet his carefully composed façade cracks in the face of her innocent attempts at seduction.
Noelle's only ever felt love and excitement whilst at her beloved piano – yet now her traitorous body craves the white-hot passion ignited by Ethan's skilled touch. But will he ever see her as more than a means to an end?
Leave a comment to be entered to win!