January 18, 2012
The Santina Crown Continuity
Update: I have confirmation that this ebook will be FREE from March to June! So hurry and get your copy when it comes out!!
I got to be a part of my VERY FIRST continuity last year. This is an amazing and awesome thing where eight authors get to work on a series together. I contributed a full length story that will be #6 in the series, and it's called Princess From the Shadows (or…Hot Rod if you follow me online).
It was a great experience because I think it pushed me to try things that I wouldn't have normally done on my own. Or…ever in some cases. But you'll find out more about that as the release for Hot Rod gets closer. 😉
I was also asked to do a prequel for the continuity and was told I could pick any characters lying around who hadn't had a story. In my book, the hero and heroine have a son and, to help with the son, a nanny. A liked her as soon as she popped up on the page. She was pretty, and liked to play with kids, and I didn't know much else. But I felt like there was something else.
As soon as the offer to do another book in the series came…I knew it had to be her book. Then I asked Twitter who her hero should be. A Spaniard? A Greek? An Aussie? Overwhelmingly…Twitter said Sheikh. And so came about Sheikh Taj. Twitter, you should be proud of yourself.
This was my first novella, and I have to say…I think writing them could be an addiction. It's such a cool skill to try and hone. Fitting all that wonderful passion, emotion and conflict into an even smaller format! Makes me feel like McGyver. But…with less duct tape.
And without further ado…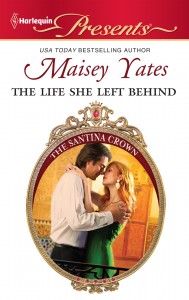 THE LIFE SHE LEFT BEHIND
The Santina Crown… Royalty has never been so scandalous!
Heiress Angelina Carpenter traded in diamonds for denim–and the freedom to make her own choices–when she fled from her arranged marriage to Sheikh Taj Ahmad. Now working as a nanny for the royal family of Santina, Angelina can't help but risk a glimpse at the glamorous life she left behind during a lavish party…and runs straight into Taj! And this time, the ruthless sheikh has no intention of letting his runaway bride get away…
A prequel novella to The Santina Crown series.
The Life She Left Behind will be available March 1st as an ebook from Amazon. UK date TBA.