Princess Katharine has always been destined for a political marriage. Her heart heavy, she prepares to meet her future husband-the man whisperers in his royal kingdom call The Beast of Hajar…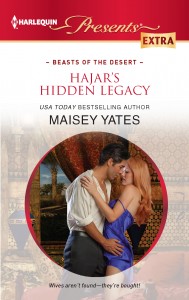 …and the Scarred Sheikh…
Concealing his disfigurement from public scrutiny, Sheikh Zahir rules his country from within the castle walls, allowing no one in. Until duty demands he carry on the Hajar family dynasty and allow his new bride to cross the threshold.
Zahir expects Katharine to flee at first sight. Yet her unflinching gaze fires Zahir's blood, and their attraction burns hotter than the scorching desert sands…
Hajar's Hidden Legacy is available in the UK and is out in North America in August 2012.
Hajar's Hidden Legacy got a 4.5 Star review from RT!  "…A vulnerable hero struggling with PTSD and a strong heroine delight in this passionate twist on Beauty and the Beast."
Excerpt
They called him The Beast of Hajar for a reason. Katharine could see that now. Zahir S'ad al Din, was every bit as frightening as they said. He was an entirely different man to the one she'd met so many years ago. Cold, completely forbidding.
But Katharine didn't have the luxury of being frightened by him. Anyway, she was used to cold, forbidding men.
"Sheikh Zahir," she began, taking a step toward his expansive desk. He wasn't looking at her, his dark head inclined, his focus on a paper in front of him. "I have been waiting for you to contact me. You haven't."
"No, I have not. Which makes me wonder why you are here."
Katharine swallowed. "To marry you."
"Is that right, Princess Katharine? I had heard a rumor about that, but I didn't believe it." He lifted his head and for the first time, Katharine saw his face.
Yes, he was every bit as frightening as they said. The skin on the left side of his face ravaged, his eye not as focused or sharp on that side. Yet she still felt like he was seeing all the way into her, as if the accident that had served to cloud his physical vision had made him able to see more than a mere mortal man.
That he was a ghost, or a god of some kind was part of his legend, and looking at him now, she understood why.
"I did call." She hadn't exactly talked to Zahir, but she'd talked to his advisor. And she hadn't really been invited either.
"I didn't think you would travel all the way from the comfort of your palace to have your marriage proposal turned down, as I was certain I had relayed my thoughts on the matter."
She straightened her shoulders. "I thought you owed me a conversation. A personal one, not your relayed response. And I didn't come to be turned down. I came to make sure the contract was honored. The deal was struck six years ago…"
"For you to marry Malik. Not me."
Thinking of Malik always made her feel sad. But her sadness was for a young life cut short, nothing deeper. He had been her destiny, her duty, for all of her adult life, and while she had liked him, cared for him in some ways, she had not loved him.
At first it seemed like losing him had changed everything, that her horizons had opened, that she might have a different future before it. It was clear now that nothing had changed.
Instead of Malik, it would be Zahir. But she was still destined to be sold into marriage for the sake of her country. She'd accepted it. Ultimately, she hadn't felt that the change in groom had mattered all that much.
Although, looking at him now it became a whole different matter than it had been in theory. He was…he was something much more than she'd counted on.
This was never about you. Never about your feelings. You have to be prepared to see this through.
"That's what I thought. But when I examined the documents a little bit closer…" Her father had handled most of the legal portion of the marriage agreement that had been drawn up between her and Malik.
It hadn't really been of personal interest to her. Her relationship with him had been nothing more than political maneuvering by their parents. She'd only met him on a few occasions. She'd simply accepted that it was what she could do for her country, that the marriage was what she could contribute. She had never personally studied the agreement.
Until recently.
"Well, yes. But really, if you look at the wording, I am promised to Malik. Unless he is not able to assume the throne of Hajar. In that case, it his his successor that I'm meant to marry. That's you."
So strange to be standing before him, all but begging him to marry her when a large part of herself wanted to run out of the room. She didn't want to marry him, not on a personal level, any more than he wanted to marry her.
But her father was dying. Far too soon, and that put everything on a tight timetable. Her marriage had been pushed to some far off, fuzzy future after Malik's death, and for a while, no one had bothered her about it. For a while she had been allowed to serve in more of a practical manner, visiting the sick in hospitals, doing vital networking to bring more tourism dollars into the country. It had been liberating in a way, to find some use for herself outside of her gender and appearance.
But that time was over.
Her father only had a few months left, and Alexander, her brother and future king, didn't reach the legal age to rule for another six years. That meant someone had to be appointed Regent in the event of her father's death, and she lacked the necessary physical equipment to be considered.
She was over being bitter about that. Now she was ready to act.
If she didn't have a husband when her father died, the man placed in charge of her country would be her closest male relative. And what her closest male relative would do with that kind of power didn't even bear thinking about. She couldn't let it happen.
More than that, she had sworn to her father it would not happen. That she would secure the alliance with Hajar, and the marriage to Zahir. That she would protect Alexander.
Failure was not an option. She couldn't look her father in the eye and tell him that she'd failed. She was a woman, and in the eyes of the authorities of her country, it made her subpar. In the eyes of her father, it seemed to have the same effect. Her father pushed her harder, demanded more, and praised her less than he did Alexander. He saw Alexander's worth as a given, part and parcel to being the only male child. And Katharine had to work and work to prove she possessed any.
And she had welcomed it. She had been up to the challenge, always, to be all that she could be. To serve her family, her country and her people. A good thing, since she was the only hope left.
She wouldn't trip now, not in this last leg of the race. The thought of it made her insides tremble with sickness and dread. It made Zahir look friendly in comparison.
"I do not want a wife," he said, looking down again, obscuring his face from her view.
She crossed her arms beneath her breasts and tilted her chin up. "I didn't say I wanted a husband.  This isn't about want. This is about need. About doing what is best for both of our countries. This marriage will strengthen the economy for both nations and whether it's Malik or…you…it doesn't change that it's the right thing to do."