July 24, 2011
My Two New Books!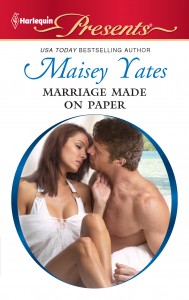 I love strong characters. Characters who, from moment one, have attitudes, clear strong voices, a precise look and clear conflicts. I don't get those characters often. Normally I have to poke and prod my characters to get them to share anything with me!
But not Lily Ford. I saw Lily very clearly in my head almost as soon as I hit send on my third book, The Inherited Bride. Lily, in my mind, was a stunning brunette with berry colored lipstick and matchign manicure. Her hair was tied back in a bun. She had on a black tailored skirt and jacket. And blue high heels.
She liked shoes. And make-up. And she was a strong, driven business woman who valued independence and image.
I knew I had to write her book, and fortunately, the perfect man for her walked into my mind soon after she did. Her boss, Gage Forrester. Witty with a ruthless edge that he keeps hidden beneath a casual demeanor.
I sat down and started writing, and they took over. They had so much to say to each other. Their book was a real joy to write because they were SO strong that it wasn't difficult to let the book be driven by their characters.
I like to describe their book as His Girl Friday meets Two Weeks Notice. With a dash of Thailand and sex on the beach thrown in for good measure!
I'm very excited that Gage and Lily's story, MARRIAGE MADE ON PAPER, is out here in North America in September! As always, it will be available for order and download from eharlequin on August 1st.
I also have a book out in the UK right now, THE HIGHEST PRICE TO PAY and I've gotten two nice bits of feedback recently that I wanted to share.
RLA left a fab review on her blog, and here's a quote from that review! "From the very first page I could really feel the weight on each of the characters hearts, as well as the web of sexual tension the author spins around them. The plot is riveting and really well written, as are both of the characters. I loved how tortured Blaise is and how he realises his past mistakes but doesn't make excuses for his behaviour. Ella is a wonderful heroine, the perfect mix of bravado and sadness."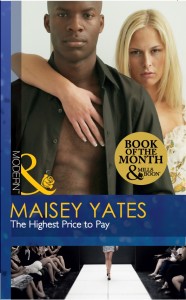 And just today, Karin Baine wrote to me on Twitter and said this: "Just finished 'The Highest Price to Pay' you really made me wanna cry for Ella and Blaise- poor tortured souls! Really moving"
And also: "'The Highest Price to Pay' – Love is colour-blind and so is a fantastically-written romance"
I really loved that quote. Partly because there has been a bit of controversy regarding this book, the cover, either the UK cover for its boldness, or the AUS cover for it's less-than-bold approach. But just as a hero is a hero, not because of the color of his skin, or in spite of it, but because of the characteristics he possesses, I hope this book touches people, not because of the cover, but the contents.
Unfortunately, some (and by that I mean one person who wrote me claiming to represent a group of readers) were put off by the fact that I have a character of African descent in this book. To that I say: Sidney Poitier came to dinner in 1967. Why are we still having this discussion?
So there you are. My two new books! I hope you all enjoy them both. 😀 And thanks to RLA and Karin for the lovely words.