Behind the Scenes of The Argentine's Price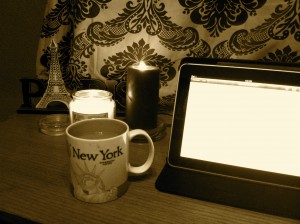 The Argentine's Price came about during a coffee shop conversation with Lisa Hendrix. We were talking about the very upper upper crust of American society. And the way old money is revered while new money is often sneered at.
Songs for this book included Bleeding Love by Leona Lewis and Broken by Lifehouse.
The working title for this book was The Trophy Wife.
Anne Hathaway was the inspiration for Vanessa. Mark Conseulos was my inspiration for Lazaro.
Vanessa is a little bit clumsy (she drops her pen in her teacup in a scene). I like to include those moments of clumsiness because I'm an extremely clumsy person, and it's sad to read about graceful people. 😉
There is a scene where Vanessa tells Lazaro he's in danger of getting TMJ from clenching his jaw too often. This came about because I eavesdropped on a twitter conversation between Sarah Wendell and Keira Soleore. They were saying that heroes in romance clenched their jaws so often they were in danger of getting TMJ. I thought it had to be in a book. So now, it is.