November 30, 2011
Celebration and a Beast Sheikh
So, here it is, the eve of my two year Calliversary. I will never, ever ever forget that morning, December 1st 2009, when I got the email from my editor asking if she could call me and chat about the manuscript I had on submission.
I had done three rounds of revisions, and had been waiting to hear back on that last round for four and a half months. I had dreamed about The Call. I'd had fantasies about it while washing my hair. Actually getting it seemed surreal and for the rest of the day I kept looking back over those emails to make sure it had really happened. I had really been offered a two book contract. It was real, and I wasn't just going to wake up and find out it had all been a dream.
Fast forward two years and I've been contracted for 15 Presents, completed and sold 12 (I have three left on this contract) and have 7 books on release. Two of those books were USA Today Bestsellers, one for two weeks running. It's all a bit more than I can believe.
*pinches self*
Not dreaming, what do you know? O_O
I'm so very blessed to get to do what I love. And I do love it, so much!
These past two years have been incredible and this next year is looking just as packed full of win. I was able to start work on my first duet, which are two linked books about a royal family, and I did my first novella! With every book I learn so much and I'm always SO excited to start the next one.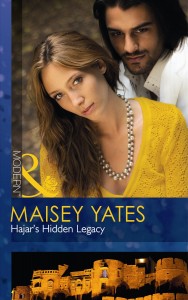 And speaking of books…It just so happens that today I got author copies of my January release Hajar's Hidden Legacy! (Some of you may know it as Beast Sheikh, which is my affectionate name for Zahir, my scarred up hero.) I'm feeling so chipper and in the mood for celebrating that I would like to give away three copies to my lovely commenters! I will mail books to ANY country so no restrictions there.
Just comment for a chance to win!
And if you don't win, or feel so inclined, you can buy Hajar's Hidden Legacy from Mills and Boon UK starting…now!
And if you like, you can read some fun, behind the scenes info about Hajar's Hidden Legacy over in the Behind the Scenes section of the website!