March 15, 2011
Daily Affirmations for the Insecure Writer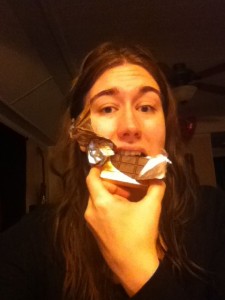 I think it was the lovely Barbara Wallace who, on twitter, referenced taking insecurity pills. Or yanno, chocolate eating. Yeah, that's about right for some of us. And it doesn't even take a major setback to throw a lot of writers/creatives into a spiral of self-loathing/doubt/mass of quivering, seething nerves.
And then there are times when there are major setbacks. And they're gut wrenching. They may not even be fair. You see other people around you get farther, faster, and you start to wonder what's wrong with you. Well, maybe nothing. The other people may have just had that magic timing/editor/MS combination. I truly think that was my trick. My MS needed a lot of work, but I happened to get an ed who was willing to put the work in. A lot of times, that doesn't happen.
And you know, sometimes it is you, but that doesn't mean you're horrible, it just means you need to keep working. It doesn't mean you need to curl up in the fetal position and wail. (I say this, but my fetal position is always at the ready)
But it's hard to get anywhere when you're curled up on the floor, so, for that reason, I have come up with Daily Affirmations for the Insecure Writer (egotists need read no further).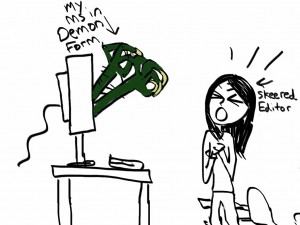 1. My MS did not morph into a soul-destroying demon of suck between my inbox and my editor's. (it's the same MS, trust me.)
2. It's okay to be wrong. (really, it's okay to need revisions, to get rejections. It SUCKS, but it's okay. It's part of learning and growing and what it does not mean is number 3)
3. I am not a failure just because I got a rejection. (You aren't. It's part of the process, more for some than others. But if does NOT mean you've failed.)
4. I can trust myself and my unique point of view.
5. Most stories have been told before, but they haven't been told by me. (this relates to number four. And also means you don't have to panic just because x bestselling author just released something similar to your brilliant idea)
6. Some people will like me, some people won't. But hey, I don't like Matthew McConaughey and he's still a millionaire. (published and unpublished, this is true. Some readers will like you, some won't. Some editors will like you, some won't.)
7. There will be more books. (Only you can stop you from trying again. Don't hang it all on one book…or ten books. Keep going. Keep trying.)
8. I'm good enough, I'm smart enough, and gosh darnit, people like me. (yeah, I went there)
9. Doubt Crows aren't allowed to win this game. (They can hover all they freaking want, but the game will go to me. I will be the champion. I will not be defeated by a bunch of imaginary spectral BIRDS)
10. Just because it's hard, doesn't mean it's wrong. (whether you're unpublished or multi-published, it being hard doesn't mean it's not right for you. Anything worth having is worth striving for.)
And those are my Daily Affirmations. You can add your own in the comments if you want! Go on, affirm me. You know you want to. O_O