January 12, 2011
Writer's Cycle of Confidence
Confidence is a funny thing. Some people have too much, some people have too little…it's a rare thing for a person to have just the right amount. I know my amount fluctuates wildly and randomly, and not so randomly. So I have created an illustrated* guide to the Writer's Cycle of Confidence.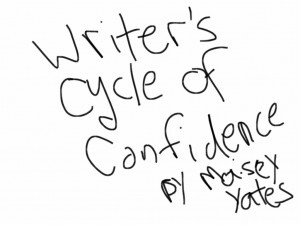 It can all begin with feedback. Word back from a CP. A revisions letter. A rejection letter. A bad review. It can take a peaked level of confidence down to zero.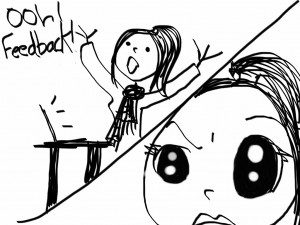 Then the crows start to descend. Ugly ones. Big ugly crows that have the blood of vanquished writers dripping from their evil hooked beaks!! You can't do it, the crow whispers. Your writing is full of suck and you suck and basically you live in opposite land where everything you thought was awesome is actually sucky!! (my crows are mean…MEAN!!)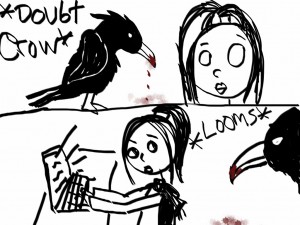 But then you sit down at the computer, and you tentatively type a few words, even though the DOUBT CROW is looming behind you looking all spectral and ebil and watching you with his hollow, creativity devouring eyes!!
Somehow though, you power through, and you write something. And you realize, hey…I'm not so bad! You've tortured your hero, you've had a breakthrough on conflict…you didn't give up even though you were beset by doubts and CROWS.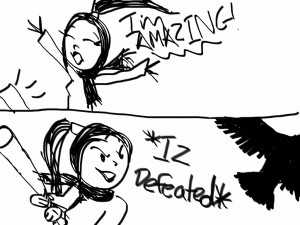 And you have to celebrate the victory because, inevitably, trust me, the evil tricksy crows will return. 😉 It's a cycle, and kind of a vicious one. Some days I feel great about what I'm doing, other days each word is a struggle because I'm afraid that I'm not even a fraction as good as I've started believing I am.
But it's not about never having doubts, it's about what you do with them. Or to them. I have a baseball bat, evil crows, and I'm not afraid to use it.
*I use the term 'illustrated' in its loosest sense