May 26, 2010
Molding the Manuscript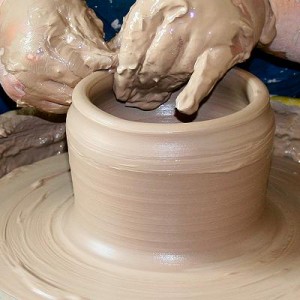 I wanted to talk a little bit about the construction and shaping of a manuscript. Why? Because I can honestly tell you that when I started writing, I had no clue what I was doing. I knew I had to get from point A to point B in a certain amount of words. But that isn't all there is to it. There's so much more.
Ultimately, it's about character, and the character journey. (yep, character again) But really, with romance, that's what it comes down to. If I'm going to enjoy a book and get really involved, really care about what's going to happen, I have to care about the characters.
Which means that when I'm writing, I have to try and remember that!
I've talked about this before. About not letting the plot steer the characters, and all that jazz. But, I'm going to throw in some things I learned while writing The Sheikh. (that isn't the title, BTW, I just don't have one yet, but it releases in the UK in Feb!)
I was really letting my characters down in a few ways in the initial draft of that MS. In the first three chapters especially, I was sacrificing character development for action. (Again) I was moving them through the plot at breakneck  speed so that I could let this wild, crazy storyline with all its external elements unfold. But I wasn't letting the reader get to know the characters. I had too many scenes that went by too quickly, the old, telling not showing thing. ;p
An example of that would be a scene I had in an elevator. My hero had just kissed the heroine and she was upset. They were going from the alley by his penthouse back into the apartment and I had put 'they didn't speak the whole time they were in the lift.'
When my editor and I spoke on the phone, she was talking about how I was moving through scenes too quickly and how I needed to make sure I was putting the reader there with the characters, staying in scenes longer so we can really feel what they're feeling. So that one line became:
When they were back in the building he propelled her into the lift, the doors shutting behind them. She couldn't believe he had done that. Kissed her as though he had every right to touch her, as though he…he had some claim on her. And only to shut her up. Her first kiss had been a diversion.
Worse than all of that, she couldn't believe the restless ache that was building in her body. The curiosity. The need to know what it would be like to kiss him again. Only gentle, and slow this time longer so she had time to process it, to learn the texture of his lips, the rhythm of his movements.
She shut that traitorous part of her brain down. He'd had no right to do that. She wore another man's ring. Even in her wildest fantasies of escape she had never imagined betraying her fiancé in that way. She didn't know the man. She certainly didn't love him. But they had a signed agreement, and she had no intention of violating it.
He'd done it to shut her up. That stung her pride. Much more than it should.
"I can't believe you did that," she said icily.
It's not a lot of added words, but it gives you something of the character. Something seriously big has just happened to the heroine and she's angry and confused and a little bit intrigued. And the reader should know that.
Another thing I got dinged on: Sexual tension. It was there. It was there from page one, in full force and in all its glory. And that was wrong. It's not wrong for every book, but it was wrong for this one. But I was so focused on showing 'hey! Teh lovemakings, they wants it!' that I wasn't paying attention to the characters and how they would really react in a situation. I was just doing everything I could to show attraction, and not an attraction that was truly unique and authentic to these characters. And as a result, as my editor said, the tension was the same in chapter one as it was in chapter six. And that is not good. It needs to build. Everything needs to build.
Way back (haha) when I was working on the revisions for HIS VIRGIN ACQUISITION, my editor said that a successful MS has that give and take, ebb and flow, pursuit and retreat. That's not to say they kiss, she pulls away, they kiss she pulls away. It's more than that. It's physical and emotional.
When I first started writing I was more concerned with what scene I would write, what my characters would DO next. But what really matters is how each scene helps them in their journey, how it pushes their internal conflict to the crisis point, then, ultimately, to a resolution.
Finally, (and my dear buddy Lisa Hendrix was just helping me with this the other day) there are some really good questions to ask yourself when you're writing a scene, especially if it's not going like you want it to! What are you trying to accomplish? Which character is risking the most? Whose POV should it be in? (sometimes a POV switch is the best fix for a scene that wasn't quite right) and most importantly, How would your characters react to what's happened? Are they responding in their character, or are they just doing what people in a romance do. (like I did, having my characters be wildly attracted just cause.)
Approaching the MS from that standpoint (at least for me) makes it much easier to keep the characters…in character, which is going to make a much stronger MS that a reader can really connect with.