Behind the Scenes of The Inherited Bride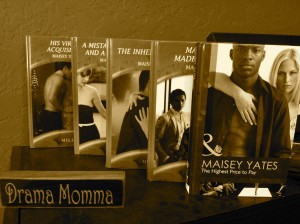 The Inherited Bride was inspired by the scene in Accidental Birthright when Maximo's impetuous younger sister Isabella, sneaks out of the palace with Alison for a shopping trip. Isabella mentioned she had an arranged marriage to a sheikh and…I had to know what happened next! Which meant I had to write her story.
The Inherited Bride was not an easy book to write. I wrote three completely different versions of the story. I think maybe because it was so difficult, it's become one of my favorite books I've written.
There's a scene that takes place in a tent in the middle of the desert. And I listened to a soundtrack of a thunderstorm the whole day I worked on it. (I was so emo that day) Of course, the thunderstorm worked its way into the scene…
The working title for this book was The Sheikh's Forbidden Virgin.
The Inherited Bride was #132 on USA Today and is a Romantic Times nominee for Best Presents EXTRA. (Credit for that goes to Adham)
My husband Haven wrote a song inspired by the book. I cried the first time I heard it. 🙂
Inherited Bride by havenyates